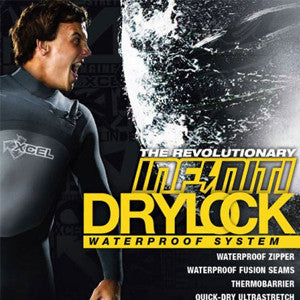 Nothing works better for cold water than neoprene and Scotch. The Drylock is top shelf like Laphroaig 18, warming and comforting and they do a damn fine job. You'll see a lot of Drylock 5/4s along our shivery coast, even though their owners might prefer Jim Beam.
It's part materials, part Xcel design­­­­. The entry system is an example. It starts with a two-piece, overlapping collar which sticks tightly around the lower neck, but opens wide for getting in and out. The right shoulder attaches to the hood, which seals it off completely, and the waterproof zipper issues from here, so it never comes undone. A bungee cord pulls the left side sung. You can tell a lot of R+D and team feedback went into this.
Xcel added Thermo Dry Celliant to the entire suit because that smart fabric refracts body heat, and the Drylock 5/4 is supposed to run hot. Which it does, partly because of the TDC, partly thanks to the entry system. Liquid seams keep leaks out, and the Drylock wrist seals work. Some guys complain the suit is too warm, but that's why so many people want one.
Comfort. The high pile chest and back feel like a fuzzy wool vest on a salty day. Xcel tailors their surf wetsuits to surfing: paddling mobility, and wave-riding stance and range of motion, define the suit's cut. The neoprene has plenty of stretch. Wearing one makes you want to surf and kick ass.
Drylock 5/4, straight no chaser.