Seaside Surf Dakine Cyclone Zip-Free Hooded Wetsuit Review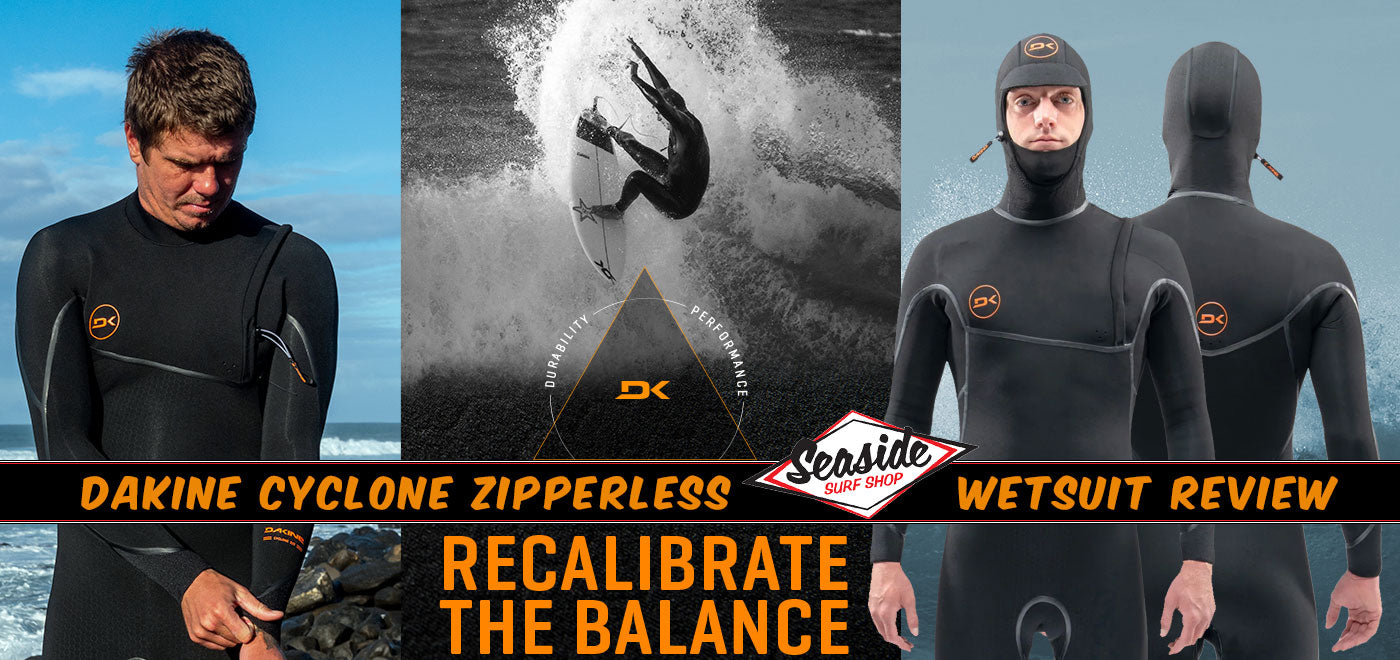 Even though it looks like every other wetsuit, Dakine's Hooded Zip-Free Cyclone wetsuit definitely stands out. For one thing, there's no zipper. For another, the people surfing in the Cyclone always seem warmer, looser, and more ripping than those in average wetsuits.
In the water since 1979, Dakine may be new to the wetsuit sector, but they've got plenty of experience and talented surfers behind them. The Cyclone proves this.
Materials:

We
sell
Dakine's new Zip-Free Hooded Cyclone in a Men's 5/4mm and 4/3mm, and a Women's 5/4mm. The same materials and design go into these wetsuits. Starting with the shoulders and arms, Dakine gave the Cyclone its proprietary limestone-based DK_Lite Neoprene to keep stretch at maximum. This suit is built to paddle, not to hold you back.
In the core (torso and thighs), heat-retaining Hexo-Therm lining acts like thermal long johns. It's lightweight, stretchy, and warm, plus it feels good on the skin. But it doesn't dry as fast as low-pile linings. Dakine's FLX_THERMO lining covers all of the Cyclone's other panels, for increased flexibility in areas that don't need as much heat.
Dakine added Resist fabric to areas of high wear, i.e. the wrist cuffs, ankles, and knees. Frayed cuffs can shorten a wetsuit's lifespan, so Dakine designed a work-around. The wrist cuffs can feel too tight at first, but they break in. Combined with compression cut sleeves, water stays out of the extremities.
Along with limestone-based neoprene, which is better for the planet than petro-based neoprene, Dakine employs dope-dyed yarn and solvent-free lamination in the construction of the Cyclone. It's impossible to push the boundaries of surf wetsuits without doing something to ease the environmental burden.
Design
The most notable design feature of the Cyclone is obviously the new Zip-Free Curv Lock entry system. Mobility increases exponentially when no zipper stands in the way of stretch. The cinch cord stays tight along the opening, and we've found that the Cyclone flushes the same as a zippered suit. If your pecs aren't big enough to keep flushes out, maybe you need to hit the weights. The zipperless entry also provides an easy on/off.
Dakine's Apex Fit was created with surfing in mind. An all-new pattern, Dakine engineered the Cyclone's Apex Fit for extreme freedom of movement. This helps eliminate stress points, which keeps you comfortable and keeps your wetsuit from falling apart.
Further performance and durability come from the Cyclone's advanced seam technology and design. Triple Lock seams cover the entire wetsuit. They are fused instead of stitched — double-glued, sealed, and reinforced with external silicon compound and internal tape throughout — adding flexibility while reducing weight.
A built-in hood with visor, cinchable seal, and soft chin guard tops off the Cyclone because this wetsuit was made for cold water and chilly offshore breezes.
Warmth
We've found the cyclone to be very toasty. The suit is so hot you may develop a crush on it. That said, the 5/4mm can seem a little heavy overall. Until NASA gives up a few of its secret heat-retaining super fabrics (assuming they exist), the warmest wetsuits will balance out with a little extra weight. Just as with board dims, finding the right wetsuit involves compromises and sacrifices. But there's way more to gain from a Cyclone and all of its benefits than there is to lose.
Takeaway
For those seeking the warmest wetsuit available, one that also offers a superior fit and incredible stretch, the Zip-Free Hooded Cyclone deserves a spot on the list. It's not often that a company enters the wetsuit market and kills it with a top-level suit. The Cyclone makes the case for Dakine as a legit wetsuit company. If you are searching for a winter-proof zipperless wetsuit, men's or women's, stop here. The Cyclone has that market on lock. To view our Dakine Cyclone wetsuits...follow this
link