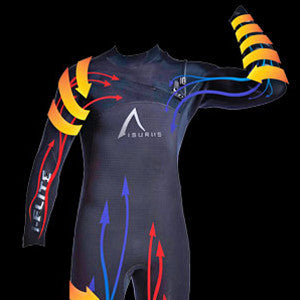 Pulling on an Isurus wetsuit is like sliding into a fancy sports car with fine leather seats. No other neoprene equals Japanese Yamamoto neoprene. Surfing in an Isurus suit reminds of cruising in that same car, a Porsche or whatever. Quick, light, unrestricting, comfy. Sometime you gotta splurge. Life's short.
Isurus definitely falls in the luxury category of wetsuits. But when the water's painfully cold, extra warmth and flex should not be considered luxuries. The quality of Isurus begins with their choice of neoprene. Yamamoto rubber, made from limestone instead of petroleum, makes other wetsuits feel like Oldsmobiles. It is 98% hydrophobic, meaning it refuses to retain water. So you stay warmer—some people wear them 1mm thinner than normal. And lighter, as post-surf parking lot tests against other brands have proven. Plus, the suit is quicker to dry. Add to that the buttery feel and stretch of Yamamoto neoprene and the premium status is confirmed.
Now, neoprene is one thing, but without advanced design and function you'd only have half a kick-ass wetsuit. A Volkswagen motor in a Ferrari would suck. Isurus has spent a lot of R+D on building a wetsuit that breaks surf industry ground. Guys like big-wave chargers/team riders Twiggy Baker and Grant Washburn have pitched in, for example, as have bio-mechanics engineers: no joke.
Compression technology may be Isurus' inside track to high performance. It comes in the form of a special lining which keeps the suit tight around the body. This increases blood flow, keeping muscles warm and well oxygenated. (All sorts of professional and Olympic athletes wear compression sleeves for this same purpose.) But, in surfing, compression fit also keeps water out of the wetsuit, so you stay warmer that way, too. A tight, compression fit, combines well with soft, supple Japanese neoprene, like plush touring seats and a super-charged German motor.
The high-end design behind Isurus wetsuits doesn't stop with compression, though. These suits are anatomically correct for paddling a surfboard: a single panel from hip to elbow helps ensure this. Aerodome air pockets in the chest and back panels insulate without added weight, and a Yamamoto Heat Fiber Core Membrane lining maintains warmth. Yamamoto SCS Titanium tape seals out water while flexing as much as you do. The chest zip keeps flushes out, and soft skin deflects wind chill while absorbing the sun's heat. Plus, they included grippy patches on the inside forearms to create drag while paddling, for extra propulsion. The people at Isurus want you to surf longer and warmer, even if you're taking their waves.
For the coldest waters, go with the I-Soldier and its soft skin shoulders. The I-Evade stays toasty, too, and will last longer for those who tend to tear off their wetsuit (finger nails rip soft skin). Or for those lucky enough to need no hood, grab an I-Elite.
Give one a try, if such a wetsuit fits your budget. Nothing like a good reason to use your piggy bank for target practice: the fanciest wetsuit you can find. Especially if you surf in cold water. Welcome to the warm, lightweight, super-shred future.

CLICK HERE TO BUY NOW
Isurus size chart