Film Critic: Volcom Stone's 'Psychic Migrations'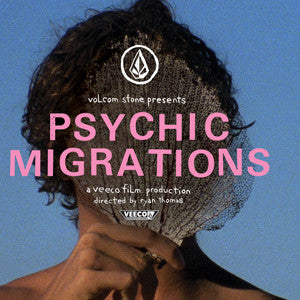 The mind travels in time, place, and mood in Psychic Migrations, just as it should. Consider the title. This is a Volcom flick, and at the core of their Veeco Productions lives art. For one thing, the movie is visual. Tastefully composed imagery, vibrant color, classic and creative camera angles, cuts to match the music: all aesthetically pleasing. But it's audial, too. Trippy organ and bass-laden rock, drivey jazzy electro-world beats, and contemplative classical-like songs: each chosen for the mood of a section and place, then woven together to help create the journey in question, the trip that is Psychic Migrations. Meanwhile, we daydream in Polynesia, Mexico, the Indies, and elsewhere, and mind surf there with some of today's top rippers.
Psychic Migrations inspires the desire to travel and see something new. The locations are not just backdrops, for example. Director Ryan Thomas uses super-16mm film clips to give us dreamy glimpses of what's around, like tropical foliage and trails, stormy skies and rivers and rain drops, rock formations and cacti and crazy sea shells and corals. He uses the same technique to show the Volcom boys on land living the stoke of surf trip life. Some people might complain there are too many non-surfing shots in this film, in which case they should re-consult the internet and its quick-cut, trick pony onslaught of wave-after-wave edits. (A legitimate complaint is a lack of Coco Ho and the girls.) The point of Psychic Migrations is to linger in a place and appreciate its beauty, especially the natural beauty. Surfing is an expression of nature, after all.
That said, this is a surf video, and it represents all types of shortboarding: barrels, airs, slabs, points, macking (see minute 51). To sum up the surfing: killing it. Young dudes like Yago Dora and Carlos Muñoz light up the sky, classics like Shane Beschen carve up waves like plastic surgeons, and then there's the super creative weirdo duo Ryan Burch and Ozzie Wright. Burch provides the most stylish surfing in the entire movie: riding a twin keel he shaped and rainbow painted in Chile, at a grinding left point there, he flits around like he's on a skateboard with loose trucks. Burch's body language is loose, flowing, and eccentric, with bottom turn nods to guys like Terry Fitzgerald, all evidence of the true Volcom style.
Psychic Migrations represents the past, present, and future of surfing and surf videos. This is far more of a production than the old school Veeco epics like Stoney Baloney and Magna Plasm: after 20-plus years of making surf/skate/snow films, from 'zine to glossy-page mag. That's called evolution. Still, Psychic Migrations maintains Volcom's founding spirit of avant-garde originality and balls-out charging, even with Kelly Slater's bald head and untiring style included (What? In a Volcom video?). Times change. Surfing progresses. And so does the art of portraying the radness, stoke, and sense of exploration and discovery that is the surf movie as we know it. Every surf film should take you on a journey. Psychic Migrations is a very good trip indeed.
Get it for now on iTunes. We'll have DVDs when they're available.