Product Review: 2016 Xcel Wetsuits Drylock Bootie
The guy busting an air in that photo is not wearing rental booties. He is wearing Xcel Drylock booties. But one way to appreciate the Drylock bootie is to try on our zip-up rental booties: Plenty of room for your foot to wash around, hardly a tight seal around the ankle and leg, minimal performance. But they're not made exclusively for surfing. Xcel booties are.
Tuck your foot into a pair of Drylocks and the tight, ergonomic fit makes you feel like cranking out turns or cross-stepping on our shop bench. Probably something like what a fighter pilot gets when he straps into the cockpit. For those of us who surf cold water, the bootie is in ways the most important piece of neoprene we wear. It is the interface between foot and board. Ideally, like for lovers, nothing would come between those two. But not all of us can, or want to, live where it's warm.
With this in mind, why not spend the extra twenty bucks on a high-tech pair of booties? The Drylock stands on the top shelf because of its design and materials. A super grippy rubber sole covers the bottom and sides. But it's layered for a supportive fit that allows for less bulk in the arch and under the front of the foot, with good traction under the heel.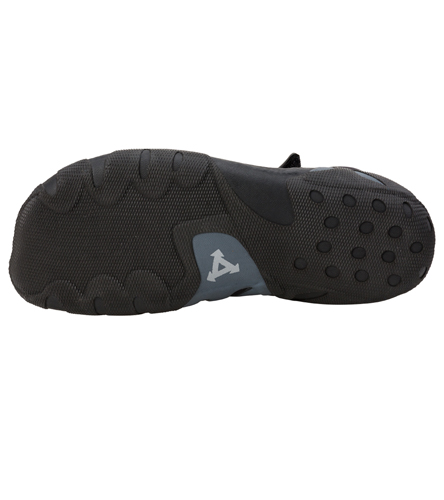 A Velcro strap connects ankle to arch, essentially locking your foot in. The seams are glued and blind-stitched for strength and durability, then taped on the inside and liquid sealed on the exterior to keep leaks out. There's a Drylock donut-like seal around the leg opening. And the bootie is fully lined with Thermo Dry Celliant (TDC) smart fabric: it recycles your body heat, is lightweight, dries quickly, and looks psychedelic.
All of that explains why surfing in Drylock booties kind of makes you forget your booties. You're focused on the wave instead, not on your slippery, sloshy feet. Split toe or round toe, Xcel Drylock booties are the fanciest surf boot you'll find, one reason why they've been nominated for SIMA Hardgoods Accessory Product of the Year for 2015. The revolution begins with your feet. If only the renters knew.