Product Review: 2016 Xcel Infiniti X2 Wetsuit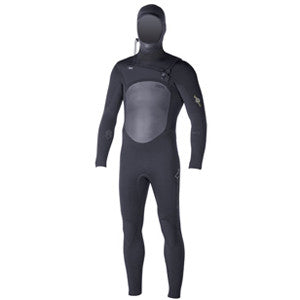 Meet the hardest working wetsuit in the industry, the Xcel Infiniti X2. Built for reliable warmth and a durable life span, while remaining flexible and shred-ready, the Infiniti is a suit you'd buy post-surf drinks for, as a sign of your appreciation and stoke.
A combination of design and materials sets the Infiniti apart. First of all, the X2 entry system: minimal flushing, maximum efficiency and comfort. Xcel uses a double collar around the neck for a snug fit that opens wide when you're stepping in or out. On top of that goes the chest zip panel, which opens only at the zipper and left shoulder—the right shoulder is completely sealed. Lock it down with a zipper that never comes uncoupled, and with a pull-tight toggle, and let the Infiniti take care of the rest.
Xcel uses Ultrastretch neoprene to keep up with the demands of today's high-performance surfing. It also holds less water, so you stay warmer and lighter. Quick-dry lining ensures a happier entry when using the suit surf after surf. And in the torso (chest and back panels), Xcel includes Thermo Dry Celliant (TDC), a smart fabric designed to refract body heat as infrared energy, allowing for better blood flow, quicker recovery if you do get a chill, and a warmer wetsuit overall—all you have to do is surf. Smooth skin on the outside of the torso and hood works to insulate you from wind chill and cold, so you can surf longer and better.
As for the seams, they're made to last, without leaking: glued and blind-stitched throughout. Stretchy, non-sticky Thermo Dry seam tape covers all the seams on the inside for added overall warmth. But Xcel has designed the Infiniti for surfing, so seams are minimal, and they're laid out in a way to permit maximum range of motion while paddling or riding waves. Flex grooves behind the knee add performance, helping you tuck low through turns and tubes.
If you're looking for a long-lasting wetsuit for cold-to-freezing water, one that makes warmth a priority but also lets you cut loose on cut backs and the like, try an Xcel Infiniti. For under four bills you will not find a better-built, better-performing wetsuit. Plus, Xcel makes a women's and a child's version, so everyone can benefit. It's a favorite around here, as a 4, 5, or 6mm year-round suit.
Another hard day's surfing. Bartender, pour me and my friend Infiniti here a drink.