Seaside Surf Shop Surfskate Review - Yow and Carver Surfskates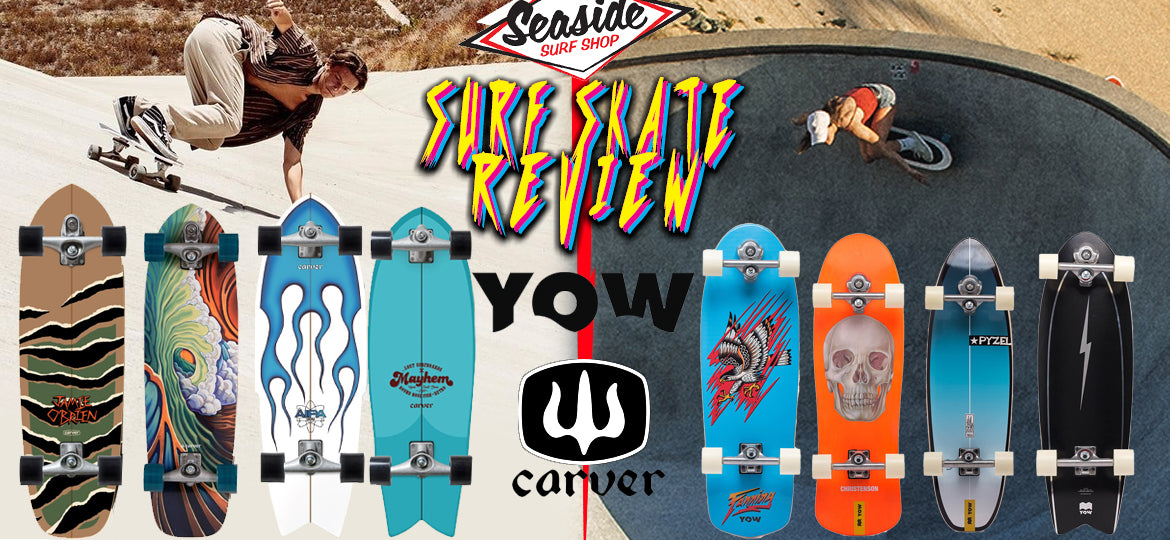 The surf will be onshore or downright flat and you'll see someone in the Seaside Surf Shop parking lot flowing through turns like it's overhead. It's hard not to grab a demo surfskate from Carver or Yow and go rip a couple concrete waves. Old-school skateboards don't make as much sense for surfers, so Seaside Surf stocks a full range of surfskates. Here's a guide to finding the right surfskate.

What's a Surfskate?
 Obviously, surfskates combine surfing and skateboarding. The secret lies in the trucks, which pivot way looser than a standard skateboard truck but also respond quickly after carves. We like them for a lot of reasons.
For one thing, surfskates are great for training to improve surfing, and they can even help you warm up before a surf. They're also fun because they let you make up new tricks you wouldn't normally do on a skateboard, like full-on laybacks or just laying a hand down when carving. Big wheels make the streets glassy.

How to Choose a Surfskate
 A rider's size and weight help determine which surfskate to grab. But like any other board, some of the choice depends on whether you want a quick, snappy
ride or something more drawn-out. Smaller boards work better in smaller spaces and for everyday skating, performing cutbacks on driveways and the like, but they will feel squirrely at higher speeds. Longer boards will draw a longer arc turn with more flow, handle more speed, allow longboard moves like cross-stepping to the nose, and make longer rides easier.
 Weight determines truck choice, and both Yow and Carver offer different options (see below). Bigger riders might want a bigger deck, which accommodates bigger feet and provides more stability. Groms will benefit from a Yow grom model or the smallest Carver models.
 Wheelbase is another factor: smaller equals tighter turns. Concave in the deck provides more grip, but beginners might find it awkward under foot instead of a flatter deck. To get extra specific on which board is right, check the Yow or Carver websites for each specific model.

Surfskate Brands
Yow Surfskates, in our opinion, provide sharp turns and more drive. They're incredibly responsive, but can feel harder to ride as a normal skateboard: you kind of have to want to surfskate when on a Yow.
Truck choice depends on weight. Riders who weigh under 110 pounds (50 kilos) will do best on Yow S4 trucks, which are looser and smaller. S4 trucks provide more compression for short, quick turns, and they're best for kids. Riders who weigh more than that will use the S5 trucks, recently upgraded to the new Meraki system. S5 Meraki trucks are more simplified and reinforced than the older Yow S5 system.

Heavier riders can ride S4 trucks but need experience and technique because the ride will be more reactive and unstable. Lightweight riders will lack reactivity on the S5 system. The springs are not interchangeable, so an S4 cannot be changed into an S5 and vice-versa. The Yow grom models have lighter springs for young riders.


Carver Surfskates are better cruisers, we say. The trucks are not quite as loose or springy as Yow. A look at the Carver team, though, tells you how they rip: Kai Lenny, Yago Dora and Taylor Knox all have pro models. Put a Carver on rail and you'll feel solid surfing dynamics.
Carver trucks come in a range of choices and can be tightened or loosened for different reactivity. The C5 Truck System (C5 front, C4 rear) is most similar to standard skateboarding, allowing for ollies and control thanks to their shorter, narrower design. The C7 dual-axis truck set offers the opposite: a smooth, fluid ride like a single fin surfboard. The CX single-axis truck mimics a thruster's snappy response and efficient down-the-line pumping: consider them a mix between the C5 and C7.
Board lengths vary between mini, short, medium and long. Each has its own purpose, but many models offer the same deck shape and graphics in different lengths.

Finally
Some of us OG surfers wish we had surfskates as groms, but they didn't exist back then. The benefits a surfskate brings to your surfing makes progression much faster. But surfskates are also fun as their own subset of skateboarding. Anyone with an interest in skateboarding can learn on one and get stoked as their carving skills progress.

Choosing between a Yow and a Carver can be difficult if you can't come into our shop and demo each, but as long as you get the sizing right it's really a question about graphics and board shape. If you need advice, give us a call at (503) 717-1110. Old-schoolers might want a Carver Black Beauty so they can conjure classic Tom Curren. Younger surfers might want to visualize themselves on a Teahupoo monster or ripping like Gabe Medina.

The point remains the same no matter what: surfskates are super fun and they come as close to surfing on land as you'll ever find. You can find our surfskate collection here