Seaside Surf Volcom Modulator Wetsuit Review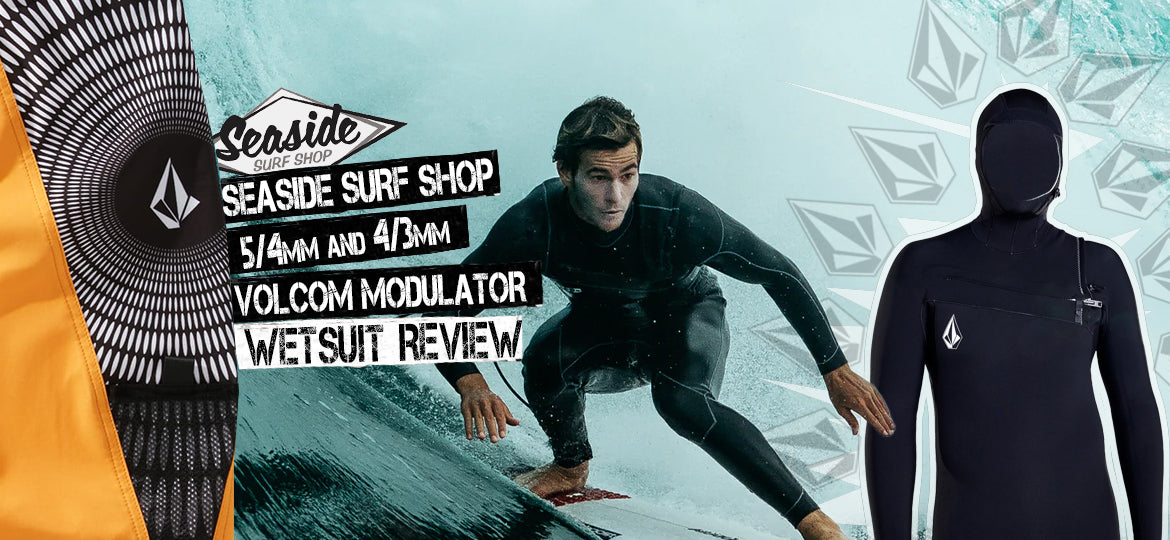 Enter the Modulator. It was about time Volcom released a wetsuit. Volcom's surf team is stacked so heavy with talent it only made sense they drop into the wetsuit game. Championship Tour rippers like Jack Robinson and Yago Dora travel the globe to surf heats in water temps that require fullsuits, which gave Volcom plenty of R+D opportunity to dial things in. We've surfed the results, and as expected they're sick. In fact, the Volcom Modulator wetsuit delivers the highest-performance value for your buck.



Stoney Materials
These days it's hard to make a world-class wetsuit without using limestone-based neoprene. It's better than petroleum-based neoprene in a lot of ways: lighter, stretchier, warmer, more durable and gentler on our planet. Volcom's decision to go limestone was a no-brainer. As a result, the Modulator is buttery from day one.

The first sensation you get while pulling on a Modulator is comfort. Or maybe it's love. The 4-way stretch neoprene hugs you with surf-infused bliss, wrapping around every contour while allowing an inspiring full range of motion. At the same time, a fuzzy lining greets the torso (front and back) and the upper legs to add heat, and, what's more, it dries fast. Take note: not many wetsuits priced under $300 come fully lined, but the Modulator does.
The environment gets a break thanks to Volcom's Eco True initiative.
Water-based, solvent-free Aqua X glue zeroes out the VOCs. All seams are blind-stitched and fully taped for longevity and to repel leaks. The Modulator's neoprene features Eco Carbon Black, which uses recycled materials instead of freshly-drilled oil. Dope-dyed yarn replaces the regular stuff and creates less pollution. This wetsuit is on the right path.

Stoney Design
Volcom began as a surf/skate/snowboard brand, so when they make a wetsuit you know it's designed exclusively for surfing. That means an ergonomic fit for supreme ease of paddling and, likewise, no restriction while ripping waves. In particular, we noticed how the shoulders offer amazing flexibility.
The 5/4/3mm and 4/3mm Modulators are available in a chest zip. A YKK zipper (metal pull, plastic teeth) closes tight with no need to connect the zip. Entry is simple, and while the zipper is a bit long across the chest, the suit opens wide to let you in and out. Volcom's chest zip design seals well and includes a cinch cord and a key loop.
The 4/3mm back-zip wetsuit makes for the easiest, quickest entry/exit. This is best for anyone with limited mobility or body types that don't quite fit through a chest entry. The back-zip Modulator has a thin inner panel so that your body is entirely wrapped by neoprene, which helps keep cold water out.
All the Modulators have a smooth, sticky collar that creates an effective seal. The wrists and ankles wrap tightly against the skin thanks to a tight band around the cuff. 
Four-way stretch knee pads feature stoney bumps for grip and durability. The hooded Modulators have an ergonomic 2.5mm hood with cinch, chin cover and bill.



Thickness and Fit
The Modulator fits on par with most companies. We size them the same as Xcel wetsuits, for example. They don't seem to run too big or too small. A 4/3mm warms slightly more than an average 4/3mm because of the fuzzy high-pile lining. Wear one in water between 50 and 57 degrees. The 5/4/3mm also warms plenty thanks to the lining and is best in water between 45 and 50 degrees.
Takeaway
The Volcom Modulator wetsuit impressed us from the beginning. Stepping into one for the first time, we discovered a most comfy and buttery wetsuit capable of handling our cold-ass winters and heavy waves. But the other pleasure of offering these wetsuits is the ability to sell you one for $300 or less. In these days of skyrocketing prices, who would expect to find such a deal on a brand-new, high-quality, surf-specific wetsuit made by a company with deep roots in the industry? We consider it the best price-to-value ratio of any wetsuit in the shop, especially for a suit that's fully lined and taped. Be sure to thank Volcom on the way out.
You can see our line of Volcom Wetsuit available here:
Volcom Wetsuits