Xcel Infiniti Boot Review 2017-2018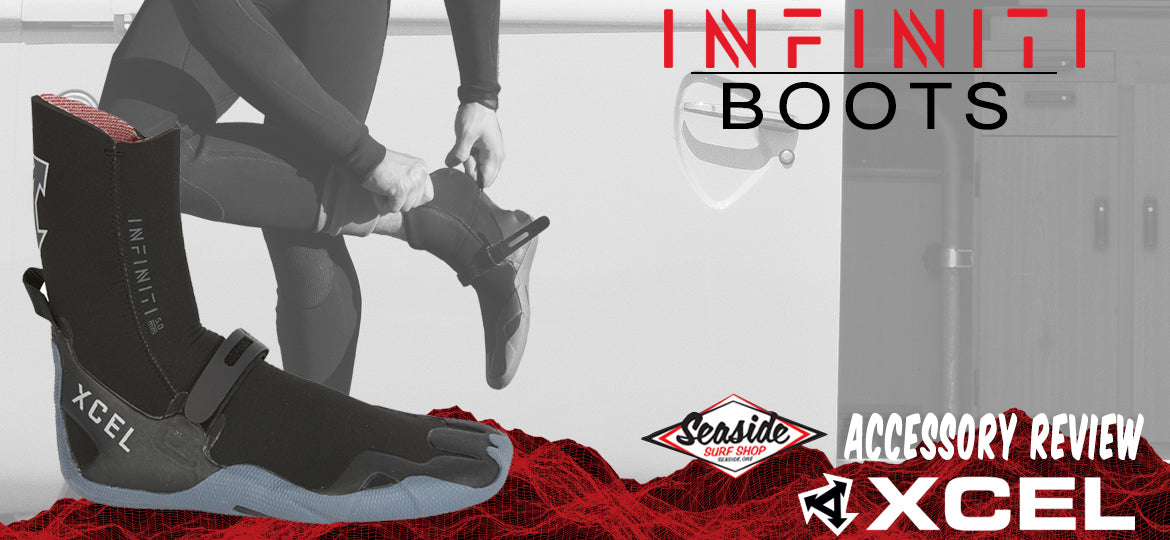 Radder than ever, the new Xcel Infiniti bootie, in 5mm and 8mm. Sheer mastery of surf boot production allows Xcel to pack a heavy-warmth punch into the newest Infiniti bootie design. A favorite around here for its durability, performance, and warmth, maybe it's time to upgrade or renew your booties and get into these.

With the Drylock and Comp X as avant garde, Xcel follows the principle of simplicity in building the Infiniti bootie. The results include comfort, stability, traction, warmth, lightness, and a fair price tag. This year, Xcel added Thermo Lite lining which acts like a faux bear skin rug in front of a cozy fire. A molded strap tucks you into the bootie more snug than
Fine surfing awaits when only a pair of Infiniti booties lies between your feet and your shred stick. Ride waves all day long thanks to the Xcel surf-specific fit, and to the precise board feel and control that a single layer of rubber underfoot provides. Taped seams prevent leaks, keeping your feet light and
Xcel's efforts to clean up the earth and pollute less has led them to improve the wetsuit manufacturing process. Recycled materials create less toxic neoprene and make use of things like plastic bottles and tires that we don't want in our oceans. They've also minimized PAHs, which keeps our waters healthy. Good on 'em for
Even when suiting up or changing into clothes, coffee or beer in hand, Infiniti booties help you out. Pull on the ankle loop to pop your heel in, and feel stoked that quick dry fibers dried the inside overnight. Take cold water by the raisins. Wear 5mm or 8mm Xcel Infiniti booties this winter.


It's not like you'd regret having a pair of kick-ass Infiniti booties once the surf got good and cold...