Xcel Men's and Women's Comp X Wetsuit Review 2019-2020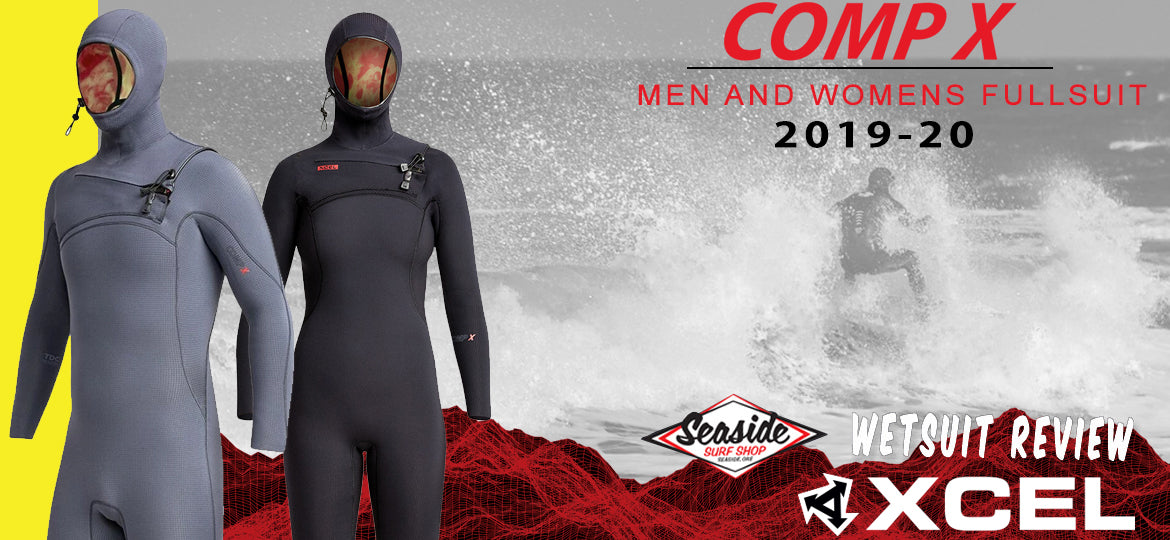 Only Xcel could dream up a wetsuit like the Comp X. Forget the bells and whistles—a high performance suit relies on avant-garde design and elite materials. Built to surf in a range of water temps, the Comp X keeps you loose and toasty, just what you need to fully express the untamed wave shredder within you.
Total mobility, maximum warmth, and a sense of respect for the ocean and Earth. Xcel builds all of this and more into the 2019-2020 Comp X. New this year, Channel Flex outer fabric covers the entire suit, boosting flex with easy expansion. Also, a new hood design makes cold water life better.
The front and back of the Comp X are each cut from a single piece of Japanese neoprene. Fewer seams provide flex and prevent leaks, but more important is the new Nanoprene Lite "rubber" made from limestone instead of petrochemicals. Traditional neoprene sucks, and it's toxic. Japanese neoprene stretches like latex, heats like fire, and stays lightweight and durable like carbon fiber. Ideal for a surf wetsuit. Nanoprene Lite proves even lighter and warmer still. After winning the SIMA Wetsuit of the Year award in 2017, the updated Comp X could easily maintain the title.
A 100% super stretch nylon exterior (no smooth skin) increases the elasticity and durability of the Comp X. Thermo Dry Celliant lining from chest to ankles boosts the interior temperature by refracting your body's infrared heat. Designated a medical device by the FDA, TDC makes perfect sense in the surf industry. Medical grade! Warm blood equals loose, healthy, aggro muscles, which in turn create paddling power and wave ripping like you never imagined possible.
To maintain more heat for cold water surfing, Xcel gave the Comp X a watertight zipper and a redesigned entry system. A Glide Skin collar sticks around your neck to keep flushes out, and Nexskin around the wrist and collar cuffs does the same. Fusion X heat-bonded seam tape stays flexy and durable while refusing leaks. To respect our planet, Xcel uses dope-dye yarn, recycled nylon, and they build wetsuits to last. All of what's in the new Comp X coalesces into one of the most ultra-performance surf wetsuits in existence. It's so badass that only surf shops can sell the Comp X, which means if you want one, you've come to the right place. Take our word: this is the hottest suit, the one we wear. Available in a regular 4/3mm, a hooded 4.5/3.5mm, and a hooded 5.5/4.5mm. Let 'er rip!