Xcel Women's Drylock Wetsuit Review 2019-2020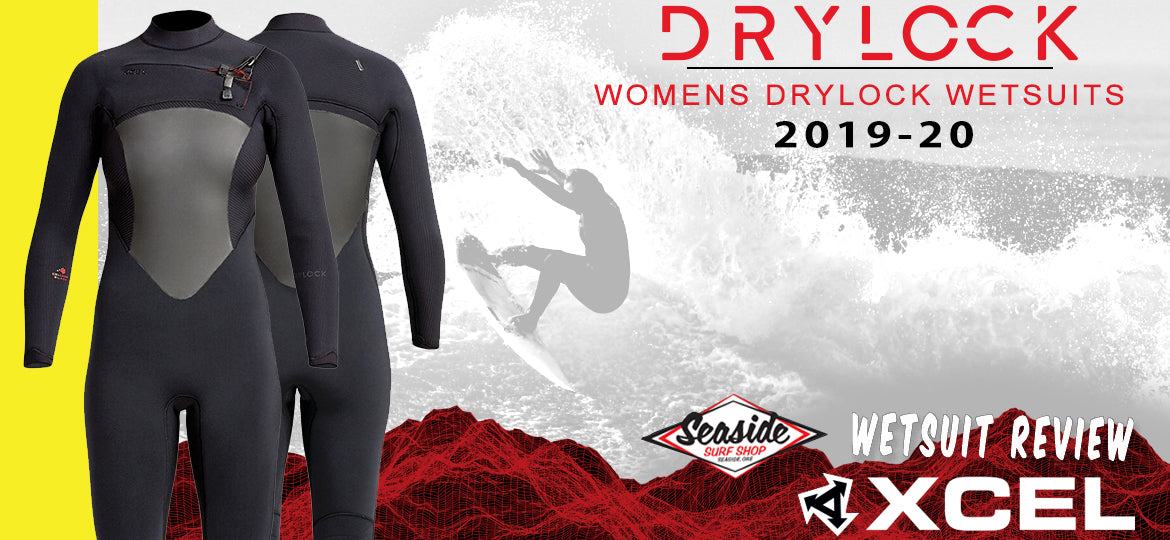 Embrace cold water with a 2019-2020 Xcel Women's Drylock wetsuit. With medical-grade heat-retaining technology, a women-specific cut, and top-quality materials like Japanese NanoPrene Lite, you'll feel warmer than you ever thought possible. Xcel's best suit for women matches the men's version in everything but fit. Luxury at sea.
The new Women's Drylock features a gridded Channel Flex outer, which expands with ease so you can blow the tail out. A one-piece sleeve and a new hood design are also upgrades to the Women's Drylock.
More stretch, warmth, durability; less weight and carbon footprint. Japanese neoprene makes for the greatest wetsuit experience. Made from limestone, it holds less water, which means it's lighter, softer, and more effective at insulating heat. The NanoPrene Lite that Xcel now uses in the Drylock takes all these benefits even farther. This is cutting-edge neoprene, and so is the production process behind it. Using limestone instead of petro chemicals makes a difference on our planet's health. NanoPrene Lite also uses material from old tires instead of oil, and Xcel opts for non-VOC, water-based glue, amongst other clean-and-green materials.
Celliant Black smart fabric lines the entire wetsuit. Its infrared heat-refracting properties have earned Celliant Black medical-grade status from the FDA. Your blood flows better and your body performs optimally, even in chilly waters. Fuzzy high pile throughout the wetsuit, Celliant Black comes as hollow fiber in the chest, and smooth jacquard in the sleeves and lower body.
To minimize leaks and flushes, Xcel has a new chest entry system that is also easier to get in and out of. It includes a watertight zipper with magnetic closure tab. Drylock donut wrist seals and Nexskin ankle seals wrap tightly, and a sticky Glide Skin collar does so in a way that your neck will love. (The Hooded 5/4 has Celliant Black lining, Glide Skin around the face and chin wrap, and a cinch pull.) Triple-glued and blind-stitched seams, backed on the inside with heat-pressure bonded FusionX tape, creates incredible durability. One hundred percent super stretch nylon, with a quick-dry outer, ensures you stay supple.
Surf well no matter the temperature, latitude, or time of day.