Xcel Men's Drylock Wetsuit Review 2019-2020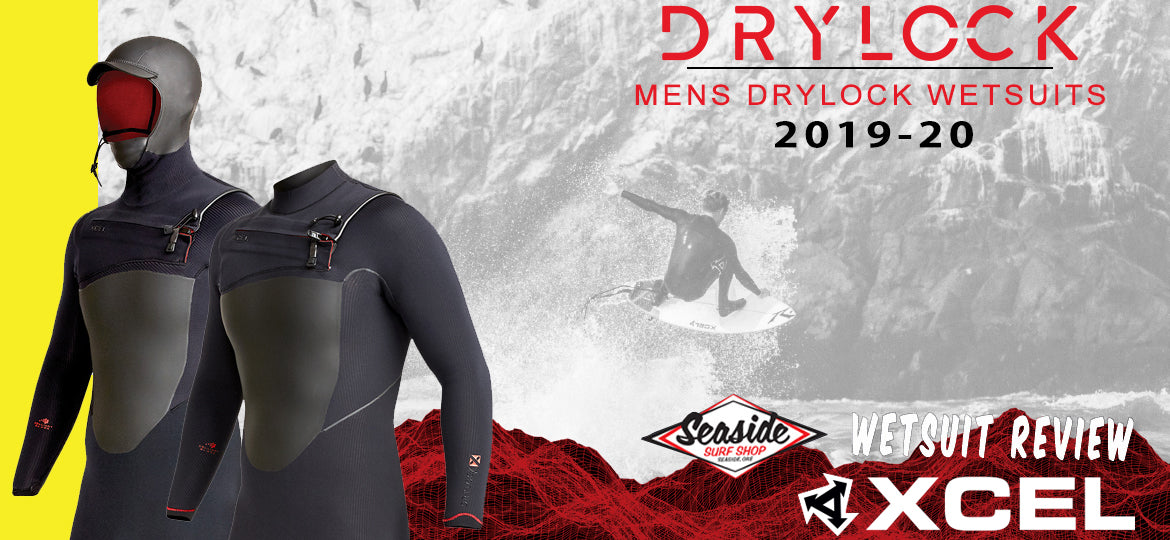 Show your appreciation of cold water with a new 2019-2020 Xcel Drylock men's wetsuit. This gnarly surf suit feels like Tahiti on the inside, and it's stretchy and light enough to make you kinda feel like you're in trunks.
High-end design, materials, and construction pay off in degrees Fahrenheit/Celsius when you slip into the top category of wetsuits from Xcel. New this year: Channel Flex gridded outer fabric for more flex, a one-piece sleeve, and a redesigned hood. How serious do you take your surfing?
A serious wetsuit evolves around premium neoprene. Xcel uses Japanese limestone neoprene, the most buttery and warm in existence. And they recently elevated suits like the Drylock to new Nanoprene Lite, for a boost in stretch and gravity-defying properties.
Neoprene made from limestone deletes nasty oil from the equation, which is better for us and our home. And Xcel sources a major ingredient from used rubber tires to shave its carbon footprint even more. One taste of Japanese neoprene and you'll never go back to petrol-prene.
Part two of the killer Drylock recipe is infrared heat-refracting Celliant Black smart fabric. A woven blend of medical-grade minerals refracts your body's infrared heat back to you, stimulating blood flow while you surf. The Drylock has fuzzy high pile Celliant Black lining throughout: hollow fiber in the chest, smooth jacquard in the rest. The result is delicious, old-fashioned yet high-tech warmth.
To augment the heat capacity of the Drylock, Xcel includes an array of features designed to refuse leaks and flushes. An easy chest entry system with watertight zipper; Drylock donut seal wrists and Nexskin ankle seals; a sticky Glide Skin collar; and 3x glued and blind-stitched seams backed inside with heat-pressure bonded FusionX tape.
Higher performance is derived from 100% super stretch nylon, a light and quick-to-dry outer, and back knee flex lines so you can get radical.
The environmental factors cannot be overlooked, either—non-VOC glue, dope-dye yarn (which eliminates the traditional dyeing process, and saves on water, electricity, and pollution), and minimal PAHs, to name a few—thus establishing the 2019-2020 Xcel Men's Drylock wetsuit (hooded and regular) as one of the ocean's favorites. Be good to your lover!