Xcel Men's Drylock X Wetsuit Review 2018-2019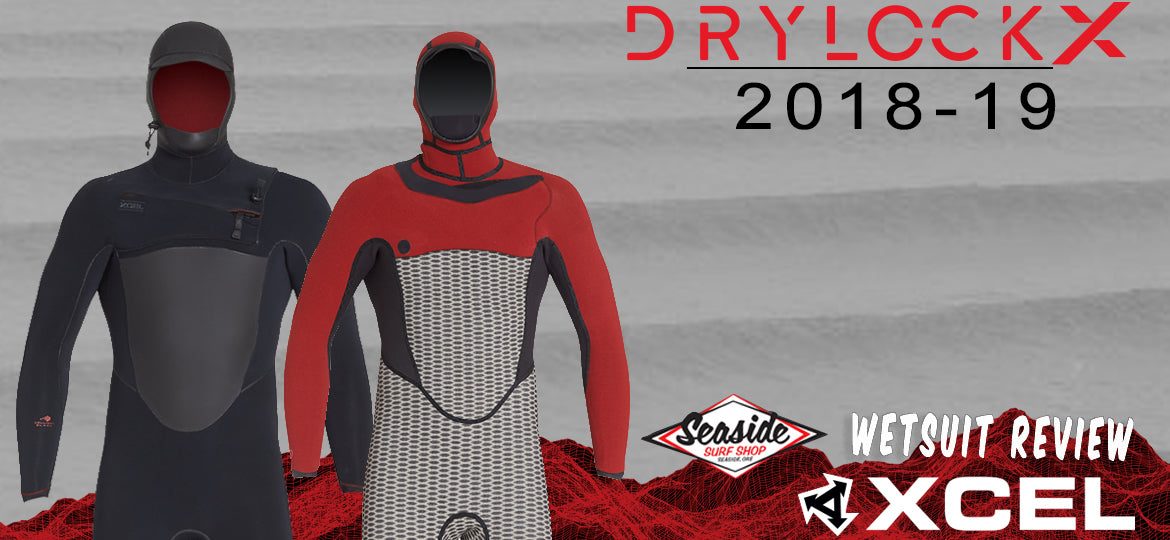 Xcel hardly needed to improve on the new Drylock X men's wetsuit, but found a way regardless. Created last year as the deluxe version of the already-premium Drylock, the Drylock X for 2018-2019 offers a new streamlined entry, new space age Nanoprene Lite neoprene, and a reduced weight plus faster drying time. If you're looking for high tech, where average surf wetsuits will be in 2030, the Drylock X is it.
Last year, Xcel introduced Japanese neoprene to its wetsuit fleet. Rather than refining neoprene from messy, toxic, outdated petroleum, the Japanese stuff is made from limestone. Besides being better for the planet, this "rubber" provides more stretch, warmth, and buttery texture, while reducing weight and water absorption. The upgrade to Nanoprene Lite only accelerates all of these ideal properties. Translation: the best your money can by, with immediate benefits to your time spent surfing and the quality of your shred.
Lining this fine neoprene is Celliant Black, a smart fabric proven by research universities to stimulate blood flow via infrared heating. A proprietary blend of medical-grade minerals bounces your body's heat back to you, and warm blood circulates way better than cold. (Save the cold bloodedness for dealing with crowded line-ups.) Xcel put high pile Celliant Black throughout the Drylock X wetsuit: hollow fiber from the chest to knees, and silky Jacquard in the arms and below the knees (less bulk, easier to get on and off).
Want more top-shelf features? Okay. Stitchless Power Seams resist leaks and tears, and they flex like chewing gum. Fusion X tape (heat pressure bonded) continues this good work on the inside of the suit. A waterproof zipper with magnetic snap keeps flushes out, as do the Drylock wrist donuts and Nexskin ankle seals. Dope-dye yarn fades less, feels softer, and its production keeps rivers and oceans cleaner. A Glide Skin collar hugs the neck (and sticks snug to your face in the hooded version), for comfort and a leak-less fit. No need to mention that the Drylock X was designed for surfing…
Xcel offers its best ideas and materials with the Drylock X. Available in a 4/3mm or a hooded 5/4mm. Good news: you can buy extreme warmth, flex, and comfort. It's called the Xcel Drylock X.