Xcel Women's Infiniti Wetsuit Review 2017-2018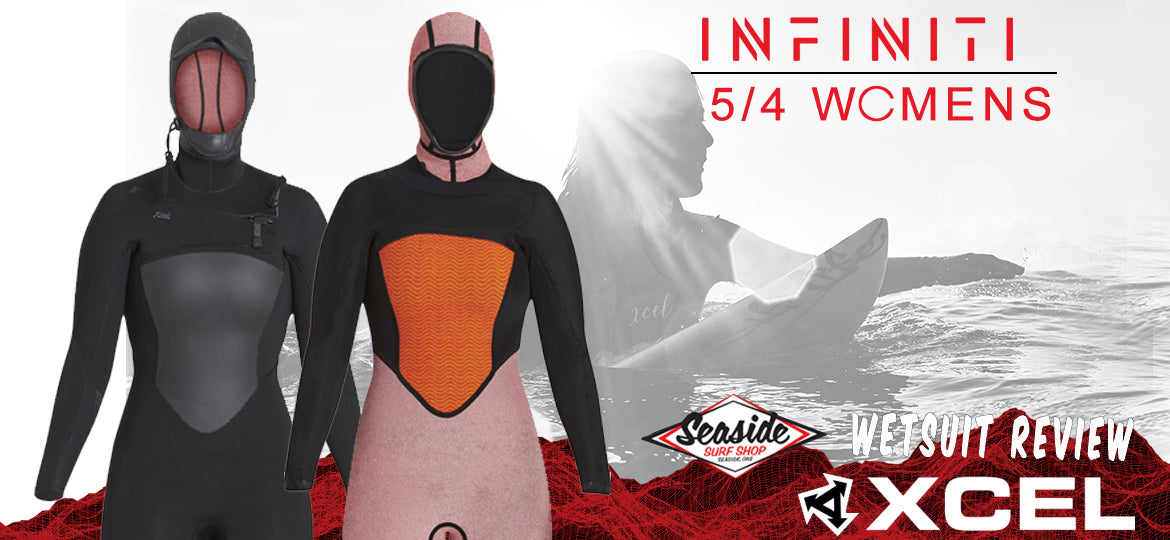 Make cold water comfortable again! Tuck yourself into a new hooded Xcel Women's Infiniti 5/4mm and forget about ocean temps. After years of developing the women's Infiniti, Xcel has broken boundaries with this newest version. From Japanese limestone neoprene, to an improved chest entry system and new one-piece shoulders, to luxurious TDC and Thermo Lite lining, the Infiniti was made for women who surf up north.
Until now, Xcel has used industry standard, petroleum-derived neoprene like most everyone else. A superior alternative does exist, however, and Xcel made the switch this season. Japanese neoprene, derived from limestone, holds less water (making it lighter, warmer, and stretchier), feels supple and plush, and even respects the environment. By choosing limestone over oil, recycled polyester over new, and sourcing neoprene ingredients from scrap tires, Xcel has reduced CO2 emissions for each wetsuit by six pounds.


The women's Infiniti even recycles your own body heat thanks to Thermo Dry Celliant smart fabric in the torso. A proprietary blend of minerals refracts infrared heat and distributes it through your core, where your surf muscles need it most. Meanwhile, Thermo Lite lining keeps your legs unburdened and your blood circulating.
Preventing leaks and flushing is another way to retain warmth. Xcel applies various features to the Infiniti with this aim in mind. A watertight zipper with magnetic closure locks you in tight. A Glide Skin collar, plus gummy NexSkin wrist and ankle seals, new FusionX seam tape, and an ergonomic cinchable hood all create effective water barriers.
Pair the Infiniti with Xcel booties and gloves and you can surf your way to the Arctic.The women's Infiniti has you covered comfort-wise as well. Xcel designs its women's wetsuits for the contours and curves of a woman's body, and engineers them specifically for surfing. New one-piece shoulders make paddling more efficient, and an improved chest entry system allows for an easier time changing in and out of the suit. Quick-dry fibers, back knee grooves, and and a grippy soft skin chest all add to the luxury. If you surf in chilly waves, the Xcel Women's Infiniti will give you the warmest smile in the line-up.