Xcel Mens Infiniti Limited Edition Wetsuit 2019-2020 Review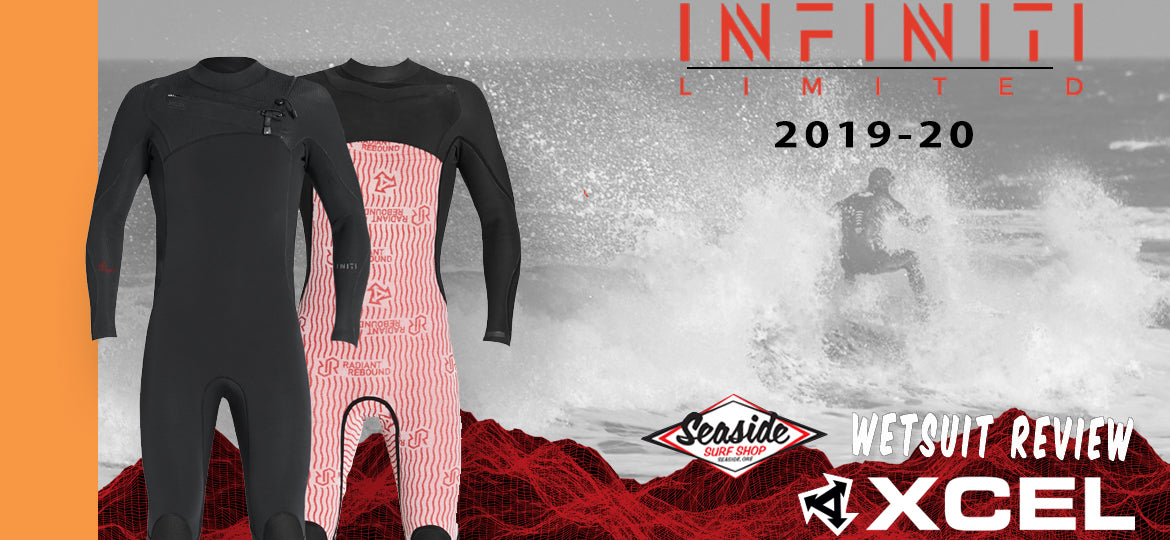 Drop the top and get yourself barreled in a new Xcel LTD. This fine creation, a surf shop exclusive launched for 2019-2020, builds on the proven performance of the Infiniti wetsuit. Xcel added new high-tech materials like Radiant Rebound and Channel Flex and called it the Infiniti Limited. The results are pure radness.
All-new Channel Flex exterior fabric uses a grid pattern to expand range of motion while also dropping weight. Genius. Another brand new Xcel fabric, Radiant Rebound lining, refracts body heat by incorporating metallic fibers in the mix. Both of these breakthroughs come stock in the Drylock series as well, so you know it's top caliber.
As for neoprene, Nanoprene Lite Japanese limestone neoprene makes the Infiniti Limited super stretchy, light, durable, warm, and soft. And because it's made from limestone rock instead of filthy oil, Nanoprene Lite comes with a much-reduced carbon footprint. All of the above is definitely to be liked. Want the best wetsuit rubber? This is it.
Under the hood, so to speak, the warm and high-performance attributes continue. A semi-dry chest zipper with magnetic closure keeps this 4/3mm wetsuit watertight, and easier to pull on and off. FusionX heat-bonded seam tape cancels out any leaks, so cold water stays where it should. A Glide Skin collar sticks to your neck, and Nexskin wrist seals also fight flushes of chilly sea water. Attention to these details is one thing that sets Xcel apart.
Another is the Hawaiian company's commitment to the environment. Besides the great importance of limestone versus petrochemical neoprene, Xcel sources Carbon Black, a crucial ingredient of neoprene, from used rubber tires, slashing CO2 emissions. Recycled polyester and a neoprene recycling program also boosts Xcel's eco cred. To keep our waters clean, Xcel uses water-based glue, dope-dyed yarn, and neoprene that is close to free of PAHs. Supporting such enviro initiatives is mandatory in this new century, yo.
An ergonomic, surf-driven fit makes the LTD shred-ready. What else would you expect from Xcel? They figured out wetsuit back in the 80s and haven't stopped pushing the limits of cold water ripping. Burn cookies in the line-up with a new Xcel Infiniti LTD.