Xcel Drylock Wetsuit Boots 2019-2020 Review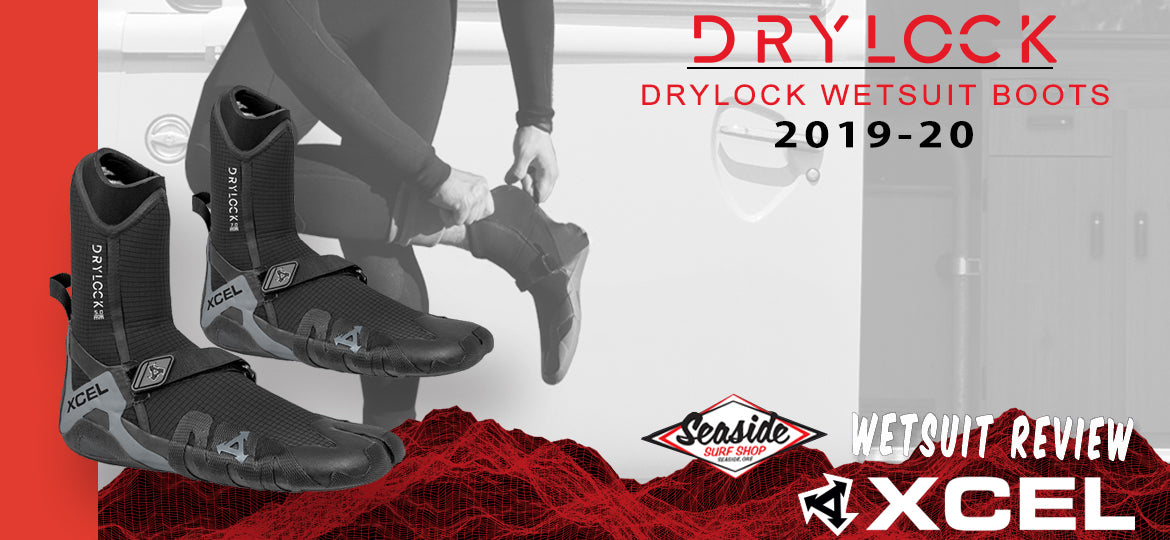 Surfing happens through your feet, and cold water waves rule. Might as well get Xcel Drylock booties, then, and surf like they're not required. From cool water 3mm, to cold 5mm, and frigid 7mm, you'll sense the high performance Xcel built into these booties, round toe or split toe. A time-tested design keeps the 2019-2020 Drylock the best bootie out there fo' sure.

A surf bootie should be lightweight, ergonomic, tight but relaxed, grippy, warm, and so on, and the Drylock kills it across the board. Extra warm Celliant Black TDC smart fabric, which refracts your body's infrared heat, lines the Drylock bootie, creating warmth without weight or bulk. To further reduce weight, and boost range of motion, new Channel Flex gridded fabric covers the exterior. Super stretch neoprene allows for maximum mobility, and a contoured 3D foot mold makes the bootie fit like magic.

An improved molded foot strap locks your foot in without excess pressure, making it more functional and comfortable. The sole of the bootie consists of one single layer of durable, textured rubber: excellent board feel and traction, plus great for scrambling over rocks. Drylock donut seals and exterior seam sealant prevent flushes and leaks, so your feet stay toasty and unburdened. Quick Dry fibers have your booties ready for the morning. And Xcel uses solar power to run their headquarters in Hawaii, they're that rad.

In fact, Xcel recently cut their CO2 emissions by 72% thanks to some serious technological improvements in neoprene fabrication. They've also managed to conserve 12 gallons of water per pound of wetsuit fabric, and they turn 45 plastic bottles into enough fabric for one suit. It's crazy! Xcel is helping take wetsuits into the new, green era. Everyone should support that.

Of all your body, your feet deserve priority treatment, when it comes to surfing anyway. Go Drylock and splurge on ripping waves no matter their temperature. The next closest thing to having nothing on.