Xcel Women's Drylock Wetsuit Review 2017-2018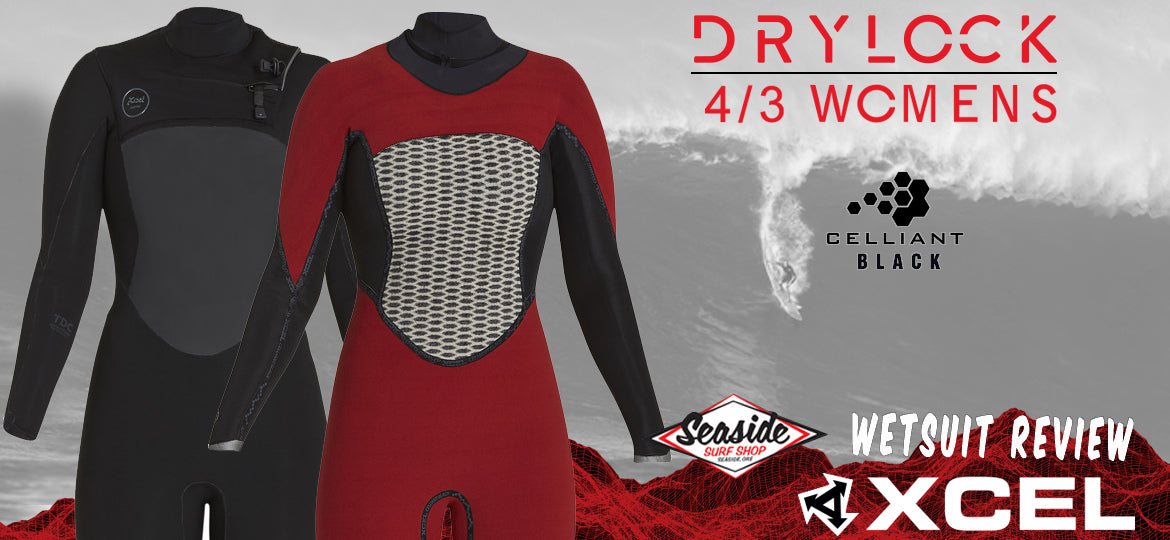 The new women's Xcel Drylock wetsuit was definitely worth the wait. Xcel spent years developing the men's Drylock into the stunning suit it has become, and now women surfers can benefit from that progress. Tailored to fit a woman's body, and elegantly all black, the Drylock impresses as much for its function as for its comfort and chic image.
Xcel's decision to use 100% Japanese limestone neoprene proves the most significant feature of the new Drylock. As a hydrophobic material, Japanese neoprene holds less water, which means the wetsuit stays lighter, more elastic, and much warmer than standard, petroleum-based neoprene. It's silkier to the touch, dries faster, and is longer-lasting, too.

But the environmental benefits are even more important: by using limestone instead of petrochemicals, and sourcing other neoprene ingredients from recycled tires, Xcel has reduced its CO2 emissions by 72%. Japanese neoprene is the best on, and for, the planet.
The women's Drylock comes lined with new Celliant Black TDC smart fabric, an upgraded blend of heat-retaining minerals, to keep your muscles toasty and loose. High-pile fabric in the chest and back stays fuzzy warm. Meanwhile, to prevent leaks and flushing, the Drylock combines a watertight zipper with Drylock donut wrist seals and NexSkin ankle seals, a Glide Skin neck, and new FusionX heat pressure seam tape.


A new sleeve design allows for added flex, making paddling more efficient, and the entire suit uses Ultra Stretch nylon. Quick-dry fibers will have your suit ready for the next session. And dope-dyed yarn prevents fading while preserving precious water and energy compared to using dyes. Did we mention that Xcel uses polyester made from recycled plastic bottles, another way they've cut their carbon footprint by 26% per kilo of fabric? The Drylock is the women's wetsuit of the future. Don't wait to get one.