2016 Xcel Drylock Wetsuit Review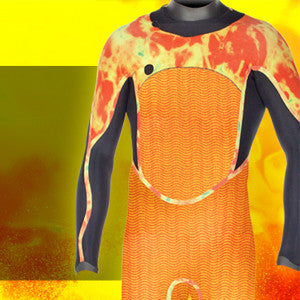 Evolution is a constant process. It's all in the details. Sometimes change comes quick, otherwise it happens little by little. Take Xcel's Drylock wetsuit. Thermo Dry Celliant, the heat-refracting smart fabric added to last year's Drylock, is an example of rapid advance. Woven seam tape in this year's suit—it's stretchy and won't stick to you or crack—represents constant, gradual improvement.
The 2016 model carries over all the killer Drylock features, like the industry's best chest entry system and full TDC lining, FusionWeld seams and donut wrist seals. But Xcel also gave it grippy patches under the chest seal so the neoprene flaps stick together and keep more water out. The zipper closure has a magnet instead of a snap. High-pile fuzziness warms the chest and back like before, but now extends down to the knees. And they've redesigned the lower body for greater ease whilst ripping.
This is a top-shelf wetsuit: Only the best materials, cut-no-corners design, and a dedicated warranty program. It is so stretchy, fitted for surfing, and toasty warm that it actually can make you surf better and catch more waves. Slay it in a hooded 5/4, or in a 4/3 hood or no hood. Adapt or die.