Product Review: Quiksilver AG47 Performance Hooded 5/4/3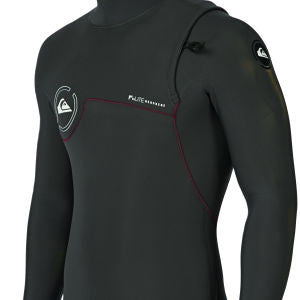 The AG47 works like an AK. Simple yet elaborate, it gets the job done. Quiksilver designed the AG47 Performance (formerly the Cypher series) to keep you warm but lightweight and unrestricted while surfing. And they did so with a budget in mind. For $350, this suit packs a broad array of features, and uses some high-tech materials. AG actually refers to silver: Ag.
A wetsuit can be no better than the neoprene it's made from. Quiksilver specializes in lightweight suits, and they gave the AG47 what they call F'N Lite neoprene because it is just that: F'n light, and stretchy. Smoothskin in the torso and hood provides extra warmth and wind protection, but more heat comes from the inside.
Red high-pile Dry Flight lining covers all but the arms of the AG47 Performance. It's fuzzy and warm, like wool but without the itch. Also, Dry Flight radiates infrared body heat back to you, thanks to its mineral composition, so you and your muscles stay toasty, and your blood remains oxygenated: You surf longer, better.
As for keeping water out, the AG47 Performance has triple-glued and blind-stitched seams. Hydrolock liquid seam seal coats most of the seams on the outside, like in the legs, while stretchy, silky Redseamseal tape lines the upper body seams on the inside. Quik has learned how and where seal seams so they stay flexible and watertight, and they've applied this wisdom to the AG47 Performance.
A Water-Block semi-dry zipper slants across the chest, and, as on all of the best wetsuits out there, the entry system integrates the right shoulder: no water getting in here. A coated zipper with off-set teeth, and a drawcord on the left side opening cinch down to minimize flushing and leaking. Quiksilver bevels the edges of the wrist openings, so water flows across instead of inside. And a strip of liquid neoprene around the inner cuff grips to your skin and seals water out: Flushblock 2.0, they call that.
Even the knee pads are plush but flexible, good for your knees and your board. The AG47 Performance looks cool, too, and feels like a second skin. It's the suit to get when lightweight, stretchy warmth is your target. This wetsuit will make things happen.