Product Review: Xcel Infiniti Comp Booties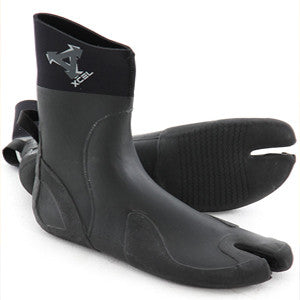 Instead of putting on booties, wouldn't it be nice to dip your feet, or even your whole body, in liquid neoprene before surfing? No restriction of movement, plenty of warmth, lots of board feel . . . That technology is far off, probably for the better. But Xcel Infiniti Comp booties are the next best thing.
These booties are made to surf, to absolutely kill it, really. They're not designed to last as long as the regular Infiniti booties (or the Drylock), because Infiniti Comps are made to perform. Comp = Competition. When you want a bootie that's super light, stretchy, and minimalist, you wear these.
To make Infiniti Comp booties, Xcel takes an ergonomically-shaped neoprene boot and sinks it ankle-high into liquid neoprene, so that all the seams and everything else gets coated in rubbery waterproofness. No leaks, even though the glued and blind-stitched seams are watertight on their own. Over this they add a grippy pad under the front of the foot, which wraps around the sides and the toes for extra traction. The heel has the same thing, only it crosses the ankle on both sides and extends up the heel, for proper support and fit. There's a pull tab, too. Done. Ready to shred.
Slide a pair on and you'll feel like running up the walls, or dancing on the ceiling, or doing the moonwalk (too much grip, though), or, better, busting backside punts and emptying buckets of water on high-speed cutbacks. Be a winner! At least your booties won't block your rise to glory.
Need a pair? Click below: