Product Review: Women's Xcel X2 Infiniti Hooded 5/4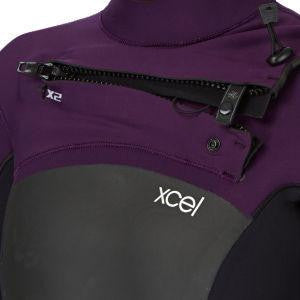 Cold water is too easy an excuse to not get in and surf. Put on an Xcel Infiniti and then decide. From the company known for seriously warm wetsuits that hold up well with time, here's the Infiniti designed for a women's body. Wearing one is like slipping into a jacuzzi . . .
Xcel's pursuit of warmth begins with plush, tightly-woven neoprene. Not only is it impressively insulating and hydrophobic, it also stretches more than even you can. Quick-drying low-pile nylon lines the entire suit, and doesn't retain extra water. Xcel added Thermo Dry Celliant smart fabric—which refracts body heat as infrared energy—to the chest and back panels. Turn up the heat and keep it where your body most needs it.
Another significant feature of the 2016 women's Infiniti is the X2 chest-zip. A watertight zipper angles down from the sealed right shoulder, and it never comes undone, so forget the hassle of attaching the zipper when you suit up. A double-panel neck flap lets the suit open wide as you step in or out, plus it seals down snug for a solid fit. No company makes a better entry system.
This version of the Infiniti comes with curves in the hips and bust, because women's bodies deserve their own wetsuit. Other than that, though, the technology stays the same as the men's version. All seams come glued and blindstitched, with stretchy inner tape to keep more water out. Cushy knee pads keep you comfortable and prevent excessive dings while duck-diving. Grooves across the back of the knees allow for greater flexibility. A smoothskin exterior in the torso and hood deters wind chill, and liquid neoprene seals on the inner wrist prevent arm flushing.
The 2016 hooded women's Xcel Infiniti 5/4 can change your surfing. Super warm, durable, and crafted specifically for surfers, it'll let you focus on the ocean rather than think of paddling in. High performance meets a woman's fit. There's a reason these suits remain so popular. Surf one and feel it for yourself.