Coming Soon: Salty Crew (updated)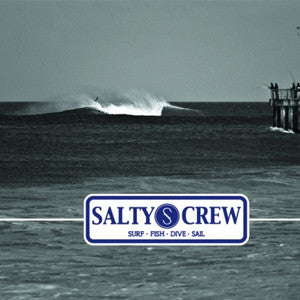 Some of us don't like to rinse off after surfing. We can feel the salt crust on our skin the rest of the day, taste the ocean for hours after coming in, see it dry and white around our bloodshot, sunshot eyes. We're happier in the sea than out of it. That makes us Salty. 
It's fitting, then, that Seaside Surf Shop has added Salty Crew apparel to the quiver. Hats, T's, hoodies, shorts, boardies, and other gear for a lifestyle immersed in salt water. The Crew's line-up blends style with function, so you can feel at ease after a surf or while waiting for something to bite. Surf Fish Dive Sail—that's the Salty Crew mantra, and it's those types of people these clothes are made for. Or for anyone who wants to feel the cool presence of the deep sea on a hot, dry day.
Check back soon to snag some Salty of your own. In the meantime, watch the video, and stay wet…

Update 7-7-2016 - Its here, its swell, and we love it..check it here