Isurus Ti-Alpha 4/5/4mm Wetsuit Review 2017-2018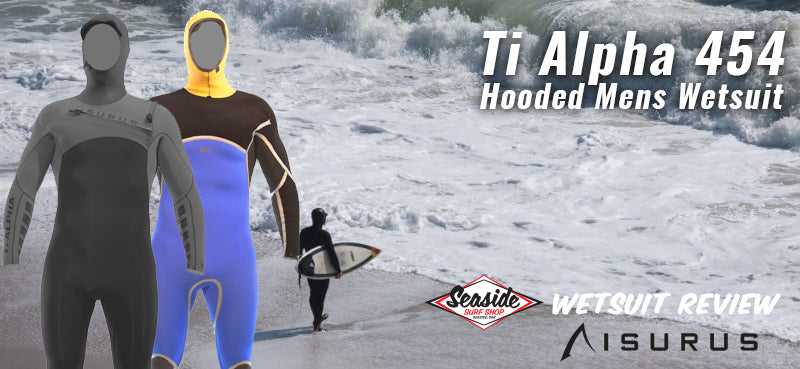 Surfing in the coldest water requires help from elements like titanium. So Isurus included a titanium lining in the new Ti-Alpha, the warmest 5/4mm you'll find today. Japanese-made Yamamoto neoprene, Aerodome heat-retaining cells, and compression technology add to the perfection. Only a company from Half Moon Bay, which also happens to sponsor 2016-2017 Big Wave Tour Champ Grant "Twiggy" Baker, would design such a streamlined beast of warmth and mobility. Isurus doesn't mess around.
Starting with a wetsuit made entirely of Yamamoto limestone neoprene, Isurus offered only the best. Yamamoto produces the highest quality neoprene, and by using limestone instead of petrochemicals they do our planet a favor, too. The closed-cell, 98% hydrophobic "rubber" of the Ti-Alpha holds very little water, which makes it less dense, much lighter weight, and way warmer.
Instead of warming a water-saturated wetsuit, your body's heat stays where it should, in your body. Neoprene made from limestone is also more durable, stretchier, and quicker to dry. And by adding a double layer of titanium alloy in the chest and back, your wetsuit refracts your body heat back to you. In frigid temps, your muscles and brain appreciate all these benefits.
The heat continues thanks to the way Isurus designed the Ti-Alpha. Compression technology wraps your muscles tight, to increase the flow of highly oxygenated blood, which supercharges your muscles and aids recovery. A surf-specific anatomical fit, created with paddling as priority, uses a single piece of neoprene from elbow to hip, so that the suit fits best with arms outstretched. Minimal seams (sealed with Yamamoto SCS titanium tape) provide extra stretch. And a smooth Nano Skin hood and back panel resist freezing wind chill. The hood also comes lined with zirconium fleece for more warmth and awesome comfort.
This could be the last cold water wetsuit you buy for a while. If you surf where ice tends to form, where beaches get fluffy white, and where most people are too chicken to go, the Isurus Ti-Alpha 4/5/4 will become more important than your surfboard.
For 45℉ and below.