Xcel Infiniti 2mm Hood Review 2017-2018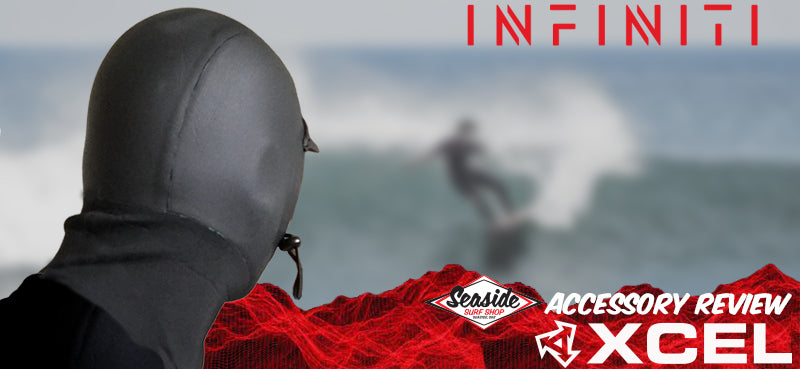 Pack a wetsuit and booties, gloves maybe, towel, beer etc., and throw in an Xcel Infiniti 2mm hood just in case. Duck dives can be f'ing cold some mornings and evenings, especially on the bigger days of fall and winter. Same goes for sitting in the line-up on strong north wind days.
If you need a hood, it better not get in the way. The Infiniti hood was designed to actually improve your surfing. Ice cream headaches can impair your thinking and performance more than a hangover.


Xcel starts with an ergonomic, surf-specific fit, made for paddling and looking sideways. If something's blocking your view, and you want to get waves, you have to be Obi-Wan or Slater. So Xcel's Infiniti hood has no bill, so you don't have to cut it off. A lot of us like hoods but not the bill. Less bulk, greater vision while paddling, more stretch. The Infiniti hood offers lots of flexibility.
Warmth relies in part on neoprene and lining. Xcel uses 2mm of premium-grade neoprene and lines the Infiniti hood with Thermo Lite, a plush fuzzy fabric that retains heat and keeps your head feeling good. A smooth skin seal sticks around your face and chin, and an elastic cord cinches it tight to prevent flushing. Quick dry fibers ready your hood for the next surf, and make the van smell less bad.
Xcel also makes the planet smell less worse by choosing premium neoprene made partially with recycled materials, so some of that oil can stay in the ground. They've found ways to conserve water throughout the wetsuit-making process, and they have minimized PAH hydrocarbon by-product, which equates to cleaner seas. It's nice to know somebody is making the surf industry more sustainable.


Thirty-five years of making wetsuits and accessories mean your hood knows surfing. It likes to get in the water as much as you do. Stuff an Infiniti hood in your bag and keep the stoke in surfing.