Xcel Men's Drylock Wetsuit Review 2017-2018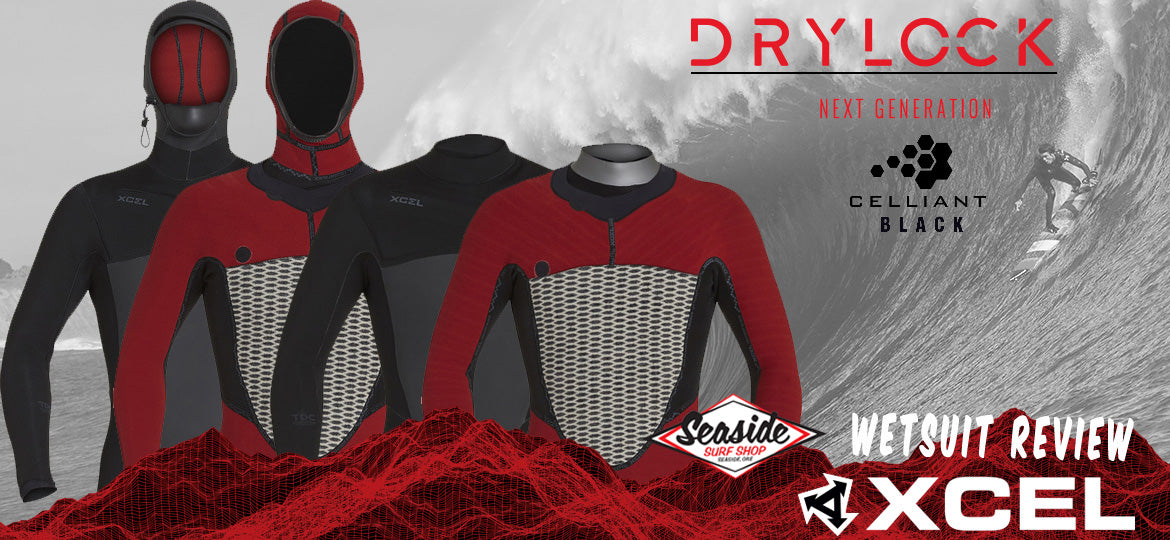 The new Xcel Drylock wetsuit seems borrowed from nature. Put one on and you're a marine mammal or a fish. The suit's materials and design follow the laws of efficiency to maximize heat retention, while remaining flexible for paddling and riding waves. And as one of the most environmentally respectful wetsuits on the market, the new Drylock makes more sense than ever when you enter salt water. 
A new design evolves the Drylock's ergonomic, surf-specific fit. The sleeves, for example, expand the arms' range of motion. One hundred percent quick-dry nylon and ultra stretch neoprene take performance to new levels, which helps you dominate the line-

Crucial to the Drylock's new character, though, is the Japanese neoprene Xcel now uses to build the entire wetsuit. Made of limestone instead of oil, and incorporating rubber from recycled tires, Japanese neoprene respects the planet. It also holds far less water than normal neoprene, so it stretches more, weighs less, and stays warmer longer. It's silkier, too. In other words, the Drylock has become a totally new-and-improved wetsuit. And Xcel has reduced its CO2 emissions 72% by switching to the world's finest neoprene. We all win.
Thermo Dry Celliant smart fabric lines the Drylock as before, from head to heels. But an enhanced blend of infrared heat-refracting minerals, used exclusively in the Celliant Black TDC, boosts the Drylock's warmth. The nylon runs high-pile in the chest and back panels, and low-pile through the rest of the suit.

Leaks stay out of the Drylock like they always have. A watertight chest closure system, wrist and ankle seals, and new FusionX heat pressure seam tape all assure function and comfort. You can't rip when you're bogged down by water.
The new Drylock helps create a new generation of surf wetsuits. Inspired by nature, by surf stoke, and by 21st century technology, this is one of the most advanced wetsuits in existence. Think of what it could do for your surfing and your connection with the ocean.