Xcel Men's Infiniti Wetsuit Review 2019-2020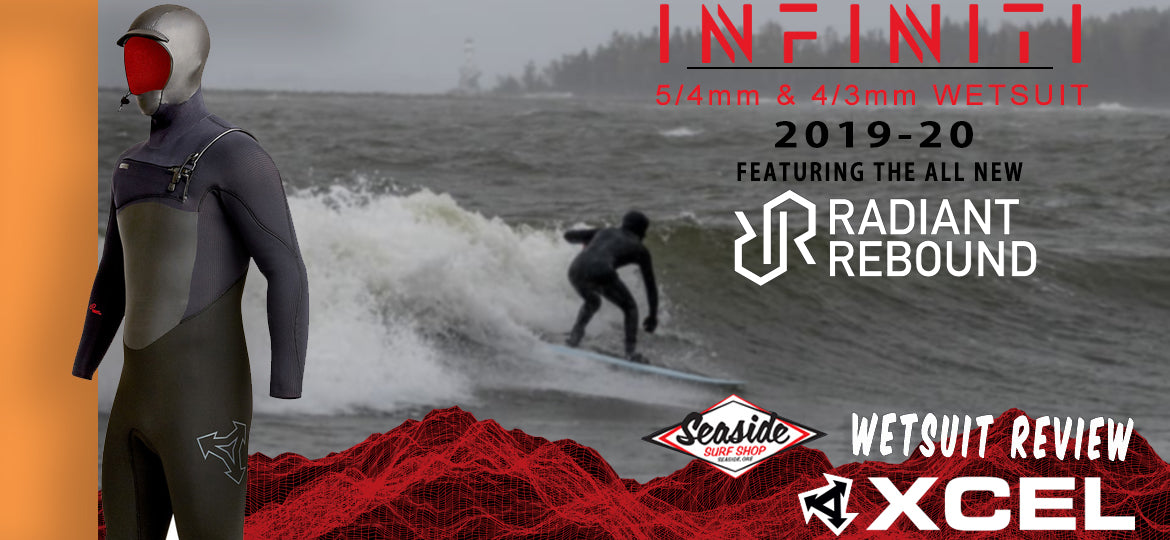 The 2019-2020 Xcel Men's Infiniti wetsuit is the type of suit you want to break in, and just keep on wearing. Impressively built, extremely warm and comfortable, and hyper efficient, it's also a suit made to last. Materials like new infrared heat-refracting Radiant Rebound lining (upper body), Channel Flex exterior technology, Japanese limestone Nanoprene Lite neoprene, and a Thermo Lite (lower body) lining are already ahead of their time. Super high performance made right, the Xcel way.
Born and still operating out of Hawaii, Xcel respects surfing and the ocean, a lot. That's one reason they switched to Japanese neoprene. It's made from limestone instead of oil. And for 2019-2020 Xcel maintains the warmth, lightness, and stretch with Nanoprene Lite neoprene, a much airier foam, more squish. True to the Xcel Infiniti, it is also very durable. The best, made to last, designed for surfing.
The Infiniti ain't made for Hawaii, though. It's a cold water suit, designed to maintain and create heat. A fuzzy new Radiant Rebound chest lining promotes blood flow by converting your body's heat into refracting infrared. Xcel piles on the warmth with Thermo Lite lining in the lower body. Adding range of motion, while reducing weight, a new Channel Flex exterior in the upper body promotes mobility with a gridded pattern.A toasty wetsuit isn't just about trapping your body heat. It also needs to keep cold ocean water out. The Xcel Infiniti seals out leaks and flushes with a watertight chest zipper and high performance entry system. Three-times glued and blind-stitched seams, Fusion X tape, a Glide Skin collar, and Nexskin wrist and ankle cuffs continue the work. 
Elastic, ridiculously warm, tough and resistant, spawned for catching and riding waves, and even eco-friendly. Xcel uses recycled fabrics, sources neoprene that takes key ingredients from old tires, and involves water-based glue and dope-dye yarn in the process of making a premium wetsuit. These things matter to the ocean.
The Xcel Infiniti proves itself epic each year. Never too late or too early to get into the infinite.
Available in a 4/3mm and a hooded 5/4mm.