Xcel Youth Hooded 4.5mm Comp X Wetsuit Review 2018-19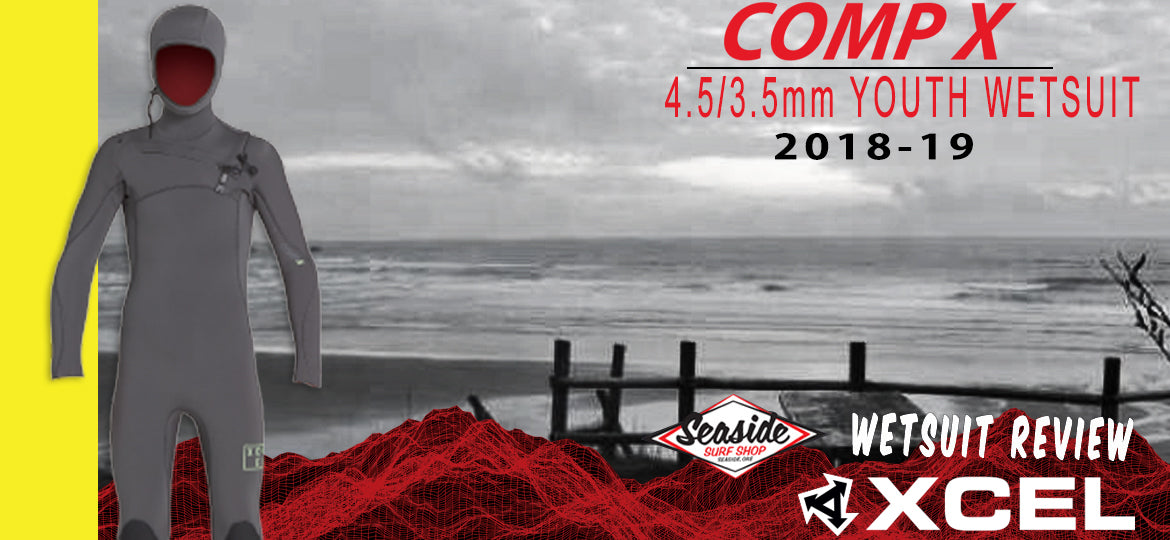 The 2019 Xcel Youth Comp X hooded wetsuit makes kids rip no matter how far north they live. Something like an orca, the Youth Comp X deals in warmth, agility, and attack. This is the surf industry's best high-performance youth wetsuit for cold water—its older bro, the Men's Comp X, won SIMA Wetsuit of the Year for 2017. At 4.5/3.5mm thick, it'll keep you happy in water from 48 to 55 degrees. Your best cold water surfing as a youth will take place while wearing this wetsuit.
Last year, Xcel upped the game and switched to Japanese neoprene, the butteriest, warmest, and lightest around. Made from limestone instead of oil, it holds less water, so you have full mobility while also helping the planet. Now Nanoprene Lite makes the Youth Comp X even lighter and warmer still. The front and back panels are each cut from a single piece of Japanese neoprene, then 3x glued and blind-stitched together in a surf-specific ergonomic fit. Fewer seams mean more flex, and it prevents leaks. Limestone neoprene is also more durable than the standard stuff. Less petrochemical, more mental.
Plush Thermo Lite from chest to ankles creates warmth from the inside. Warm, active blood means loose, energized muscles, which boost paddling power and wave ripping like you never imagined possible. Warmth also keeps you safe. A 100% super-stretch nylon exterior (no smooth skin) keeps it stretchy and lightweight. The hood is built the same way, for warmth and performance, and includes a face cinch, but has no bill.
Xcel's 2019 Youth Comp X has a watertight zipper with magnetic closure, and a redesigned, easier on/off entry system. The seams are 3x glued and blind-stitched. Fusion X heat-bonded seam tape flexes while remaining durable and waterproof. As a nod to our planet, Xcel chooses to use water-based glue, dope-dye yarn, limestone neoprene, and recycled nylon. They also make wetsuits that last. Never mind the water temp, get out there and slay waves.
wearing this wetsuit.
You can buy
here