Xcel Women's Axis Wetsuit Review 2018-19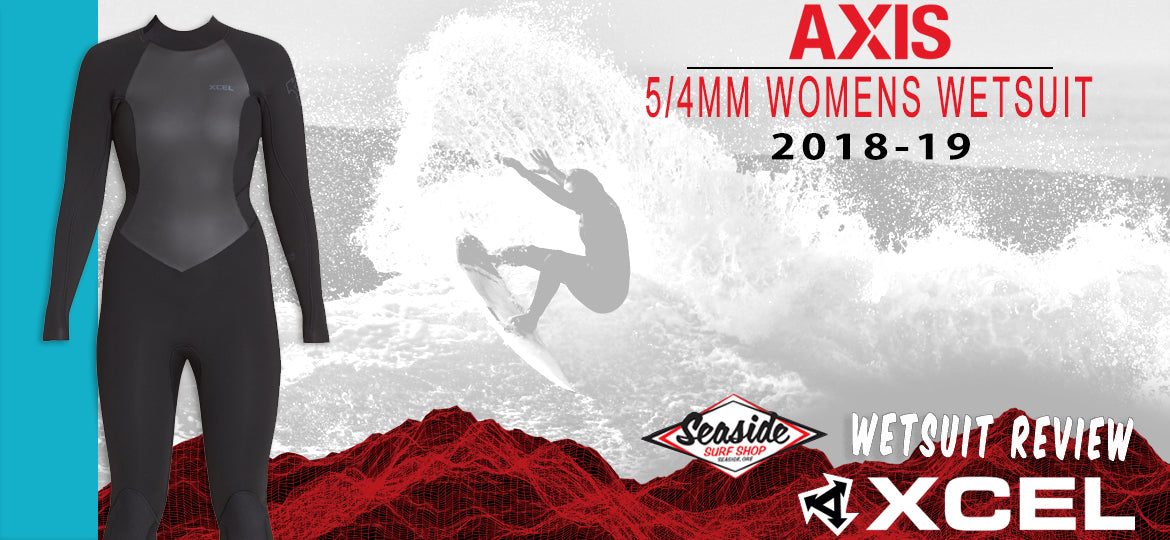 Besides a surfboard and waves, the Xcel Women's Axis 5/4mm wetsuit is all you need to surf in cold water. Xcel makes some of the best cold water suits in existence. They apply their mastery of materials and their Hawaiian experience (since 1982) impeccably in the 5/4 Axis. Warm, lightweight, stretchy, and durable, it's a wetsuit that will serve many years, and many functions, from surfing and bodyboarding to bodysurfing and kayak, SUP, and river surfing. High performance meets low price tag. Xcel creates top-shelf wetsuits at all price points.
Formerly called the Xplorer, the 2019 Women's Axis now comes made of 100% Japanese neoprene. Instead of from oil, this neoprene comes from limestone, making it cleaner to produce. Japanese neoprene also works better than standard "rubber." It is softer, lighter, more durable, stretchier, and warmer, partly because it holds less water. The fact that the Women's Axis 5/4mm now features Japanese limestone neoprene was like the ultimate upgrade for the Xcel Xplorer.
Warmth gets a boost from inside and out. Plush Thermo Lite lines the upper body, and stress points are taped with Fusion X sealant. On the exterior, a smooth skin chest and back protect against wind, while a watertight back zip and 3x-glued and blind-stitched seams keep seawater out.
To help keep the planet a nice place, Xcel incorporates a lot of eco-friendly materials. One essential ingredient for neoprene is sourced from used tires instead of petrochemicals. Water-based glue and dope-dye yarn save water and toxicity, which keeps the locales of production that much cleaner. Recycled products like water bottles go into the nylon that Xcel chooses to use. For Xcel, it's just a matter of respecting the Earth.
Developed for waters between 46-54 degrees F, the all new Xcel Women's Axis 5/4mm wetsuit performs on many levels, from warmth and flex to durability of wetsuit and planet. Few other suits in its category can compete, if any at all. It's one reason we use the Axis for our rental fleet. Better off with a fancy surfboard than a fancy wetsuit...