Xcel Xplorer Boot Review 2017-2018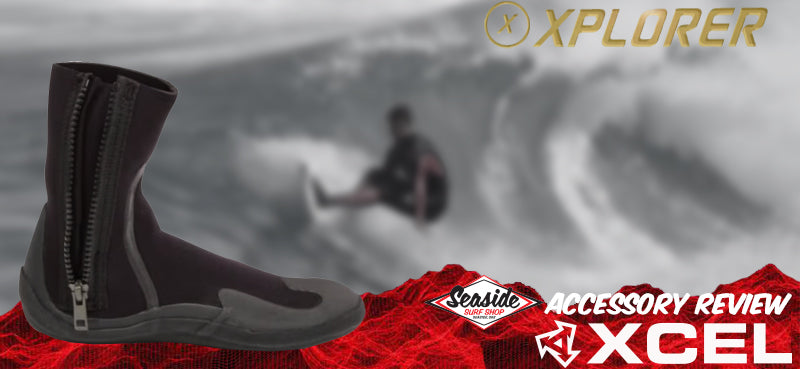 This boot has been upgraded into the all new Axis Boot - Click here for our review.




Take your surfing to undiscovered cold water places thanks to a pair of Xcel Xplorer 5mm Round Toe Boots. Total warmth, Xcel performance, and durability make for an ideal surf bootie no matter how seasoned you are. The industry's best cold water bootie for fifty bucks, that's what we say.
With Xcel at the helm, quality design and materials accompany the form and function of surfing (but also perfectly suit stand-up paddle, bodyboarding, river surfing, gnarly reef foraging, etc.). The Xplorer stays warm and light, and stuck to the deck like Ahab, thanks to decades spent pursuing the ultimate surf bootie.
Five millimeters of stretchy, warm, high-grade neoprene keep your feet warm like blubber, and a velcro strap across the foot locks it into the Xplorer and lets you rip the high seas. Sealed seams keep water out, and a surf-specific molded rubber sole provides boatloads of traction. A heel loop helps you pull the bootie on, so you can get in the water fast and easy.

Don't lose sight of Xcel's major achievements in cleaning up the wetsuit production process and our planet. They've reduced their carbon footprint by 26% per kilo of wetsuit fabric, and repurposes 11,000 pounds of neoprene each year. Recycled materials like old tires, plastic bottles, and even neoprene scraps all contribute to a better, more sustainable, and healthier-to-wear product. This is something to support!
Built to last, and backed by Xcel's legendary warranty program, a new pair of Xplorer boots has a long seafaring life ahead. And you'll have warm, lightning quick, sturdy, steady-as-she-goes feet while sideways riding the breakers. The last thing you want are leaky booties that feel more like cement booties, or slippery booties that make you feel like you're walking a greasy plank, or booties that keep your feet cold like Davey Jones' locker. Get Xcel Xplorer booties instead.